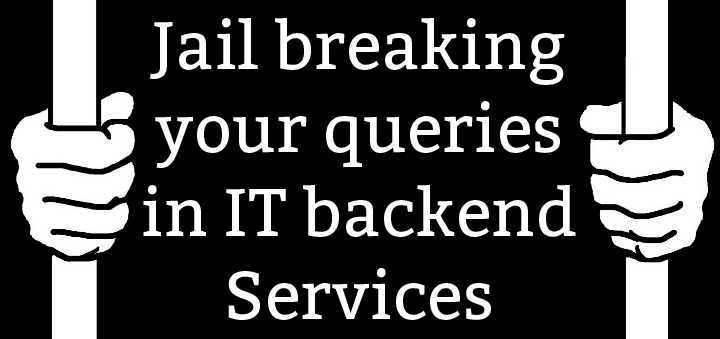 Jail breaking your Queries
Voices
How can I make this work ? Why can't you provide me with a better solution? How I am supposed to solve this ?
transmitted other sounds down optic cables, as they expected magical answers to appear from out of the blue and cure them from their headache.
What is it all about ?
These questions might sound familiar. Well, truth be told, these echo the downside of services of most companies. Even today, there are multiple small scale companies who are simply selling and not servicing. The loss is entirely faced by the client, since he might not have an in house development team to resolve the issues. Even if the client has one, then there is no point of outsourcing development to other vendors; if the major bugs are to be pest controlled in house itself. This leads to higher cost inputs and delays as the vendor morphs from one to the other.
I certainly believe that service forms an equally important part in mitigating client's fears. It acts as a catalyst in forming stronger business bonds over a period of time. Service also reflects the company's philosophy. An organization that believes in standing by its customers is sure to run into higher revenues over the long term.
How we did it ?
A recent example I recall is that of the College Management System we had designed for a highly illustrious institute of Pune. During the initial run of the system, a major issue had arisen. It had the signs of a complex problem and indications of consuming some days to deal with. But our dedicated support to them for those few days helped in sorting out the issue, and putting the system back on track in the designated time period. In the age of SaaS (Software As a Service), companies that do not comply with service rules are sure to fall out of the league soon.
What should be done by you ?
Ensure that your vendor provides support apart from the usual offerings of development.
Clarify the part involving solutions for issues during the initial rounds of discussion.
Make sure the payment entitles you for future services, at least for a period of time.